10 Best Budget Hiking Boots Ultimate Review Guide
If you are planning for hiking we have a list of the best budget hiking boots for you. As there are 1000s of options available some boots are a little bit expensive and some are cheap. We have done some in-depth research and testify each listed pair.
Generally, all the best hiking boots have some common qualities thought expensive which is somehow true. But if you are a beginner hiker it is not appropriate you spend some extra bucks. At the end of this review guide, you will be able to choose the best affordable hiking boots for you.
Why do we need to concern about selecting the right size of boots? Just like other sports, a pair of boots is also important for hikers to walk on feet smoothly by minoring the fear of injuries and blisters. If boots are the right fit and have enough cushion will give comfort all day long. The main reason to find the best boots for hiking is to protect them from edges, rabbles, rocks, and debris while trailing through mountains and woods.
Men's Best budget hiking boots review 2020
Columbia Men's Newton Ridge Plus II
Some hikers prefer low top boots and some go for high top hiking boots. Columbia newton ridge plus II is a low-top men's hiking boots and excellent for everyday use. Seam-sealed leather upper provides durability and waterproof features so that you can walk through with dried feet.
The extra cushion construction of the midsole is responsive to support your arch and keep your feet in the comfort zone. When it comes to outsole the multi-terrain traction lugs can stream the strength from your toes to legs for stable walking in any kind of hike. Breathability somehow not efficient when compared to other options but it is totally based on personal preference.
Timberland Men's White Ledge Mid Waterproof Ankle Boot
Timberland is one of the known top brands for hiking boots and continually evolving the technology for better products. If you are looking footwear for ready to go adventure Timberland white ledge is up to 90% perfectly fit and one of the better choice. The most eye-catching feature of selecting these boots for hiking review is ankle support and speed up the lacing system.
The waterproof hiking boots of timberland are constructed to support outdoor adventure no matter in which condition you are. The seam-sealed full-grain upper leather helps you to find a way to walk undesirable conditions with confidence. They have a large toe box and extra room for feet to move freely. Solid rubber outsole with multi-directional lugs never compromised the significance of grip and stability.
Merrell Men's Moab 2 Mid Waterproof Hiking Boot
Sometimes you have to terrain for continuous 8 hours and your feet need comfort. Merrell is one of the top brands of boots for hiking known for its comfort. After putting Merrell Men's Moab mid hiking boots feel fantastic, very comfortable Eva foam midsole. Stability with Vibram sole 5mm lug depth and grip on rocks and boulders.
The breathable built-in mesh lining panels on pigskin leather upper to keep moisture out so that your feet stay dry in hot conditions. Good ankle support and tightened laces to hold the feet for better performance while climbing or going down-hill. The advantage of using Merrell Moab II is removable insole with enhanced heel and arch structure. It is said to be waterproof but unfortunate not waterproof in real.
KEEN Men's Targhee II Mid Wide Hiking Shoe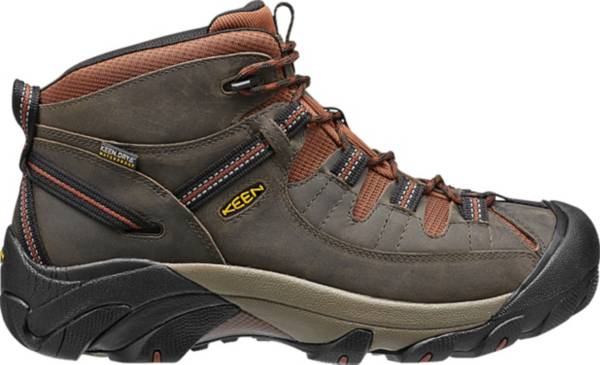 If you are looking for the best waterproof hiking boots KEEN Targhee II will fill up your desired space and drive for moisture fee hike. The waterproof nubuck leather upper prevents water particles to enter in to keep water dried in a wet condition for better performance. The upper with 4mm traction lugs are designed for heavy backpacking, stable walk, support multi-terrain.
If you are walking in a hot condition for 8 hours continuous walk and your feet start feeling pain? They're lined with the mesh in tongue and scoop of the backstay, resulting in proper breathability. Find great snug and comfy. The Keens' men's hiking boots even have rubber wrapping the front of the boot and thick soles for extra protection.
Ariat Men's Terrain Hiking Boot
In many reviews of these boots variant features and qualities appeared that make them a better choice for affordable hiking boots.
Outdoor hiking really holds up mud and you have to wear best waterproof hiking boots. The soles are thick enough that you don't feel every little bit of gravel as you do in the thin sole.
The tread on the bottom is just right to hold the surface for riding and hiking. These are comfy all day long and fit great even for a wide size. The leather upper of these boots never leaked even after walking around 3-4 hours through dew or occasion rain.
Women's Best budget hiking boots review 2020
Merrell Women's Moab 2 Vent Hiking boots
You can compare these women's hiking boots with others with distinct features of breathability. A proper airflow system is designed to give your feet moisture-free conditions. With contrary to other best value hiking boots they provide you better grip and stability with multidirectional rubber outsole.
When it comes to upper, a combination of synthetic fabric and synthetic leather makes it durable, lightweight and flexible to fit properly.
Some other properties like arch support, ankle support, EVA midsole cushions, and removable inline fall it as the first choice for best budget hiking boots. The downside of these boots is they have inadequate waterproofing but this totally depends on personal preferences.
Timberland Women's White Ledge Mid Ankle Boot
Mid hiking boot's high top flap is designed to provide extra backing to ankles. Timberland women's white ledge is a mid-type boot that protects the ankle from breakage with extra hooks in speed up lacing system. A shock-absorbing EVA midsole transfers a ray of comfort from the toe end of feet to legs to carry you for longer hikes.
The majority of the reviews show that they are the best choice for waterproof hiking boots because of seam-sealed waterproof construction upper with shield coating. If you hiked some pretty steep hills and mountains the boots did great to hold the surface with rubber lug outsole for excellent traction.
Columbia Women's Newton Ridge Plus Hiking Boot
As compare to Columbia men's newton ridge women's hiking boots provide some breathable panels alongside the mid-top and mesh tongue. It can keep your feet dry for a longer period of time by pouring out inside moisture and prevent from external water particles to enter in. Midsole bed is cushioned for extreme comfort and high energy returns for extra miles.
Hiking will not always the same, sometimes you have to walk on an uneven surface, on slippery rocks, muds, and steep mountains. If your feet remain firm then you will walk easily and comfortably. The outsole of Women's Newton ridge plus is designed with synthetic rubber sustained by multidirectional lugs to support rigid and rough terrains.
KEEN Women's Targhee II Mid Wp-w Hiking Boot
The best pair of hiking boots for women and can fit with even widen feet properly. They are extremely comfortable and have the right amount of room for feet movement. The EVA midsole footbed is very comfortable and supportive when you walk down to Steep Mountain.
The thickness of the sole is constructed 4mm thick and gives great protection against rocks and edges. You can also hike in a new pair for hours without any blisters and they are great in spring snow as they keep your feet very dry.
Ariat Women's Terrain Hiking Boot
Ariat is a well-known brand of boots generally used for rigid outdoor hiking and horse riding. The heel of Ariat women's-Terrain hiking boots is about a quarter-inch wider, enough to protect it from rock edges. Some of the trails are rocky with a few slightly steeper climbs up sheer boulders/rocks. They are not much wider but have plenty of toe room and if put in with heavy socks no problem.
They are water-resistant, not actually waterproof and can easily clean with a brush. They are really comfortable for lots of walking around the area, mucking stalls, and walking through muddy turnouts. These boots fit as expected because most reviewers said they run about a half size small which is accurate. With great arch support, shock-absorbing footbed and support of ankle with padded collar features provide the ultimate level of comfort.